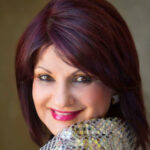 "
I love this job!  The dancers, faculty, parents…  I love you all!  You make this life full!
-Sandra
Sandra Rubi has been teaching in the Albuquerque area for 40 years, beginning in competitive gymnastics. She took a ballet class and was hooked. Sandra has trained at Suzanne's School of Dance in classical ballet and jazz. She has danced professionally with the New Mexico Ballet Company, danced with the Southwest Ballet Theatre, and performed in many classical ballets. Not only has she danced professionally for many years, but she has attended UNM in the study of Special Education and Nutrition. Sandra created the dance program for the West Side Community Center as well as the preschool dance program for the Southwest Ballet Company. She opened her own school here in Albuquerque in 1985. 
Competitive dance has always been a passion of hers, and she loves watching her students excel in competitions and performances. At her school, she prides herself teaching in not only dance, but life skills as well. Her first love in dance is teaching toddlers and preschool students, and introducing new children to the world of dance. Sandra's motto is "Talent is one thing, but hard work is everything".