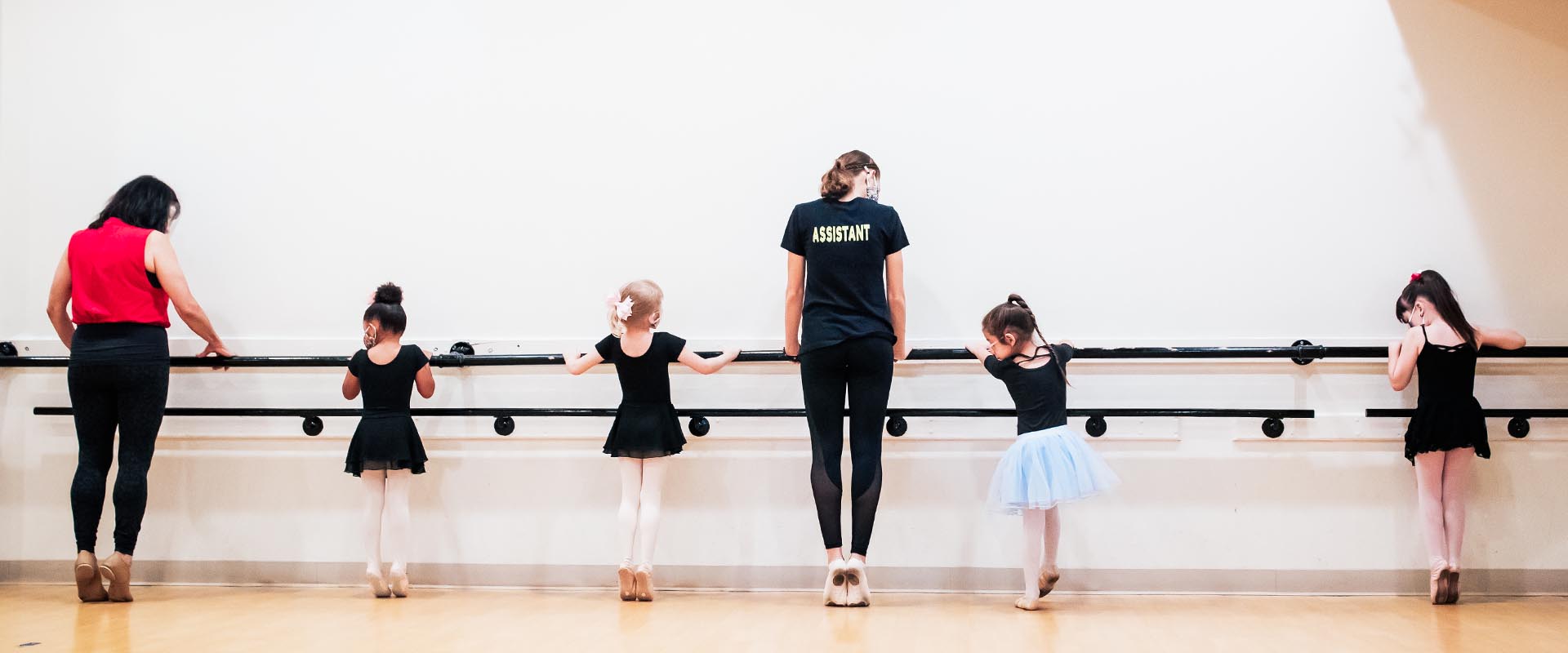 Rayne was born and raised in Albuquerque and began their dance journey at three-years-old with Marshall Performing Arts Conservatory (MPAC), training in ballet, jazz, tap, hip hop, and contemporary. At age 7, Rayne began dancing competitively with MPAC, winning multiple awards and scholarships both regionally and nationally. At age 14, they continued their dance journey at Festival Ballet of Albuquerque (FBA), training primarily in ballet, contemporary, and modern. In addition to performing in FBA's production of the nutcracker,"The Nutcracker in the Land of Enchantment" and FBA's contemporary-ballet production,"Sacred Journeys". It wasn't until Rayne was 16 that she joined Sandra's School of Dance, dancing competitively and winning more awards and scholarships along the way. At 17, Rayne began teaching and has fallen in love with it since! They have experience teaching in ballet, jazz, hip hop, and tap. Recently, Rayne had the opportunity to train with the Alvin Ailey School in New York for six weeks, refining her modern and ballet technique as well as training West African dance. Rayne hopes for all their students to fall in love with dance as much as she has!
The Albuquerque dance community has always been a central part of Sarah's life. She has been dancing for twenty years and teaching for ten. Sarah grew up at La Mesa Dance Academy and trained in ballet, tap, jazz, and lyrical with Cecelia Jaramillo. As a member of La Mesa's pre-professional company, Energy in Motion, Sarah performed various ballet, tap, and lyrical solos. She also took classes and performed with Jason Samuel Smith, Brill Barrett, and Cheryl Johnson at annual Tap Jams. For the past seven years, she has been a Core A company member, teacher, and choreographer with Alley Kats Tap Company — the only professional tap company in the state. As a dance teacher, Sarah strives to instill confidence, diligence, and respect in my students, and have experience teaching ballet, tap, and jazz to students ages three to seventy. Sarah is presently on track to graduate with a Juris Doctor from UNM School of Law in May 2021. Sarha's areas of interest as a new lawyer include constitutional rights, negotiation, and trauma-informed lawyering for New Mexico's children and families.
Sarah Hosford began her dance training at age 5, danced throughout her childhood, and continued her dance education at Oklahoma City University. While pursuing her Dance Pedagogy degree, Sarah performed in the Student Choreography show, was a Pep Dancer and held management positions like Production Assistant, Assistant Wardrobe Supervisor, and Staff Supervisor. Upon graduating from Oklahoma City University, Sarah performed with Disney Cruise Lines aboard the Disney Dream as Princess Tiana. She performed in various deck shows, stage productions, and holiday enhancements. Sarah continued her Disney journey at Shanghai Disney Resort where she debuted as the first ever Princess Tiana at the park! She performed in stage shows, parades, and castle performances. Sarah loves teaching and has taught and choreographed for various studios across the United States. Sarah believes anyone can dance and is excited to share her passion for dance with everyone!
Brooke has been training since the age of two. She received her training at Sandra's School of Dance. She is trained in Ballet, Jazz, Tap, Hip-Hop, Contemporary, Jazz Funk, and Gymnastics. Brooke began competing at the age of five, she has since received many scholarships (Joffrey Ballet School, AMDA, ect.) from various dance competitions. Brooke is a choreographer, teacher, and performer. Brooke is currently attending UNM. She is currently on the Lobo Dance Team and is Majoring in Dance to expand her dance pallet.
Jessica Padilla began her dance and gymnastics training at the age of three at Sandra's School of Dance.  As a part of the school's competition team, she has won several awards, titles, and scholarships including a Dance Olympus VIP dancer and a final contestant for Dance America's Dancer of the Year Competition in Las Vegas, Nevada. Jessica spent many years also as a member of the New Mexico Ballet Company, and performed in productions of Nutcracker, Dracula, Balanchine's Serenade, and other Ballet Showcases. During this time, Jessica attended several ballet workshops including a summer-long Ballet intensive with the Joffrey Ballet Company in New York. After High School, Jessica continued her Ballet, Jazz, and Hip-Hop training at the University of California at Irvine, during this time she was employed by Plaza Production 1, a company providing dance classes as part of school curriculums and after school activities across Orange County, CA.  In California, as a member of CADC, IDT, and Pulse Dance Crews, Jessica attended and performed in Hip-Hop showcases around Los Angeles and Southern California. In 2009, Jessica returned to Albuquerque, and became a weekly Ballet instructor and competition coach for Sandra's School of Dance. She also works as an LMSW specializing in pediatric development and assessment, and is a part-time professor for NMHU's School of Social Work. 
Joe Nava's ballet training began with Marshall Performing Arts Conservatory (MPAC), Dance Theatre of the Southwest, and 3 years with Ballet Chicago where he studied with Daniel Duell, Sheila Rozann and Ted Seymour. Nava is a founding member of Festival Ballet Albuquerque who's performance credits include: The Nutcracker in the Land of Enchantment (The Nutcracker, Snow King, Spanish variation, Chinese variation, Fandango, Shepherd, and Hummingbird), Peter and the Wolf (The Hunter), Billy the Kid, Coppélia (Corps), A Midsummer Night's Dream (Nick Bottom), and Dracula, A Love Story (Dr. Van Helsing & Dr. John Seward), and a soloist in the Sacred Journey's series. He has studied Classical Ballet as was founded by Agrippina Vaganova, The Balanchine Method, Horton and Graham Modern Technique, Bulgarian Folk Dance, Bboying, Flamenco, Classic Jazz, and Tap.
Nava has received scholarships to Ballet Chicago, Arizona Ballet, State Street Ballet, and The Kirov Academy of Ballet. He was accepted to Ballet Chicago's Year Around program and Studio Company and State Street Ballet's Year Around and Apprentice Programs. In summer 2017, Nava attended the Summer Historical Dance Weekend & Workshops, "Exploring Nijinsky's notes revealing his choreographic ideas for a sarabande to music of Bach"  which focused on resetting two of Nijinsky's works Rite of Spring and Jeux; hosted by the New York Baroque Dance Co. with Artistic Director Catherine Turocy, internationally acclaimed expert of Baroque and Pre-Classical Ballets. In early 2019, he was invited to guested with Louisiana Delta Ballet, in their production of Coppélia.
Sandra Rubi has been teaching in the Albuquerque area for 40 years, beginning in competitive gymnastics. She took a ballet class and was hooked. Sandra has trained at Suzanne's School of Dance in classical ballet and jazz. She has danced professionally with the New Mexico Ballet Company, danced with the Southwest Ballet Theatre, and performed in many classical ballets. Not only has she danced professionally for many years, but she has attended UNM in the study of Special Education and Nutrition. Sandra created the dance program for the West Side Community Center as well as the preschool dance program for the Southwest Ballet Company. She opened her own school here in Albuquerque in 1985. 
Competitive dance has always been a passion of hers, and she loves watching her students excel in competitions and performances. At her school, she prides herself teaching not only dance, but life skills as well. Her first love in dance is teaching toddlers and preschool students, and introducing new children to the world of dance. Sandra's motto is "Talent is one thing, but hard work is everything".
Antoinette Segura a native of Albuquerque and began her dance training at the age of three with Fishback Studio of The Dance in ballet, jazz, tap, acrobatics, hip hop and contemporary. She has competed regionally and nationally with Fishback's dance team, receiving numerous awards and titles, including Youth America Grand Prix 3rd place contemporary winner and IDC Junior Miss Global. In 2005, Antionette joined NMBC then joined FBA in 2016. Antionette has trained with various artists and is currently a dance instructor for Kids Love to Dance, Sandra's School of Dance, Dance Theatre Southwest, and for NDI-NM. Her dance philosophy is "Dance is the hidden language of the soul".
Dolores "Lola" Sanchez is a passionate and empowering choreographer, educator, and performer. Well-versed in tap dance, contact improv, capoeira, and street jazz. She has served as faculty at Peridance Capezio Center, Steps On Broadway, and Broadway Dance Center in New York City. She is an Adjunct Professor at Pace University for The Commercial Arts Dance Program and has been a Guest Teaching Artist at Hope College and Molloy College. Dolores has worked with and/or performed under Chloe Arnold, Michelle Dorrance, Ali Bradley, Joseph Webb, Jared Grimes, Sam Webber, Dianne Walker, and Derick K. Grant. She was a member of Chloe Arnold's company, Apt. 33 from 2014 – 2017, a 2018 – 2019 recipient of a New York Live Arts Fresh Tracks Residency, and is the founder and artistic director for her NYC-based tap company, The Dolo Project. She is currently an Artist in Residence with the American Tap Dance Foundation and a Teaching Artist with New York City Center and Flamenco Vivo. She has taught in Guadalajara, Queretaro, Madrid, New Mexico, and all throughout the tri-state area of NY. Dolores is currently a grad student at the University of New Mexico. For more info follow @doloressanchez_@thedoloproject
Dona Sosa
Assistant Director
Dona Sosa has been a performer, teacher, and choreographer for over 25 years. Starting her dance training at Sandra's School of Dance at the age of 2, Dona trained extensively in ballet, tap, jazz, and gymnastics.  She was one of the original members of the Dance Sensations, Sandra's first competitive dance team. Dona began assisting Sandra at the age of 11 and began teaching at the age of 14. When she was 16 years old, Dona started choreographing for the competitive team. Her choreography has won copious awards throughout the years including Best Choreography at several competitions. After graduating from the Albuquerque Academy, Dona attended the University of New Mexico where she received her Bachelor of  Science degree in Early Childhood Multicultural Education with a Minor in Dance. Dona has been teaching in the Albuquerque Public Schools for the past 16 years and currently teaches NM State Pre-K at Bel-Air Elementary School.  Dona is also a consultant with the Santa Fe Opera's Early Childhood Initiative and the Paradise Valley Community College in Phoenix.  Dona is the Assistant Director for Sandra's School of Dance  and is very involved in all aspects of the recreational and competitive programs.
Tatiana Tafoya has been in the competitive world of dancing since the age of 3.  During her years as a competitive dancer she received many awards and scholarships including numerous top 10 overall high score awards, several opportunities to compete for dancer of the year from different conventions, as well as the HC Dancer award where she was able to assist the faculty throughout the convention and competition. She began assisting at age 11 and teaching at the age of 16 where she found her true passion.  She is currently studying at the University of New Mexico with aspirations to become a radiologist specializing in pediatrics with a minor in Spanish. Her ultimate dream job would be working at St. Jude Children's Hospital as a radiologist while incorporating dance with her patients. She hopes to be able to inspire the next generation of young dancers.
Jennifer is an Albuquerque native and began her ballet training at age four. She studied with Patricia Dickinson-Wells at Dance Theatre Southwest since 1998 with additional training from masters including Jock Soto (New York City Ballet), Jilliana (New York City Ballet), Arthur Mitchell (Dance Theatre of Harlem), Mel Tomlinson (Alvin Ailey), Antoinette Peloso (Metropolitan Opera Company of NY), Stephen Legate (San Francisco Ballet) and Alex Ossadnik (Ballet Theatre de Bordeaux).
Her performance credits include various roles in The Nutcracker for Festival Ballet Albuquerque, New Mexico Ballet Company and Ballet Repertory Theatre of New Mexico including Balanchine's Serenade for NMBC and FBA and BRT's Beauty and the Beast and Cinderella. Jennifer has been a member of Festival Ballet Albuquerque since its inception and her performances include The Nutcracker in the Land of Enchantment,  Dracula, The Firebird, Coppelia, Sacred Journeys (performed live with Grammy Award winning musician Robert Mirabal) among many others. She has also had original works set on her by Patricia Dickinson-Wells, Jock Soto, Mel Tomlinson, Vladamir Conde Reche, Alex Ossadnik, David Chavez, Sean Winkless-Hall and Dominic Guerra.
Jennifer has been teaching Ballet for over 10 years and has taught every level from the tiny toddlers to mature adults and everything in-between. She loves to pass on her knowledge and passion for Ballet to a new generation of dancers!
Michelle Vaughn is an Albuquerque Native with over 25 years of industry experience. As a dance instructor, Michelle has been recognized on national platforms for her innovative choreographic works and her dancer's technical abilities. Her students have received scholarships to the following institutions and programs: Alonzo King's Lines Ballet, Kirov Academy of Ballet, Hubbard Street Dance Chicago, University of New Mexico, Texas Tech University, Columbia University, and Chapman University to name a few. With a focus in teaching youth, Michelle held the positions of Co-Director of the Early Childhood Program, Director of Evolve Dance Company, and Artistic Director at Marshall Performing Arts Conservatory (2013-2017). During this time, she served as a judge for Cathy Roe Ultimate Dance Competition, where she adjudicated the top dancers in the country (2016-2017). Michelle's technical background includes, Classical Ballet, Classic Jazz, Lyrical & Contemporary, Duncan Technique, the Progressive Ballet Technique, and through level 7 gymnastics. Her performance credits include, regional and national concert dance and competitive performances, 4 seasons with Disney World, and commercial dance. Michelle's multifaceted career includes being a wife and mother of 4 incredible children, two of which are award winning dancers. Her passion for teaching reaches across all of the platforms of her life, and she is vehement about educating the next generation about dance, and its many wonderful attributes. Currently, Michelle teaches at Sandra's School of Dance, where she specializes in core strengthening techniques and injury prevention.